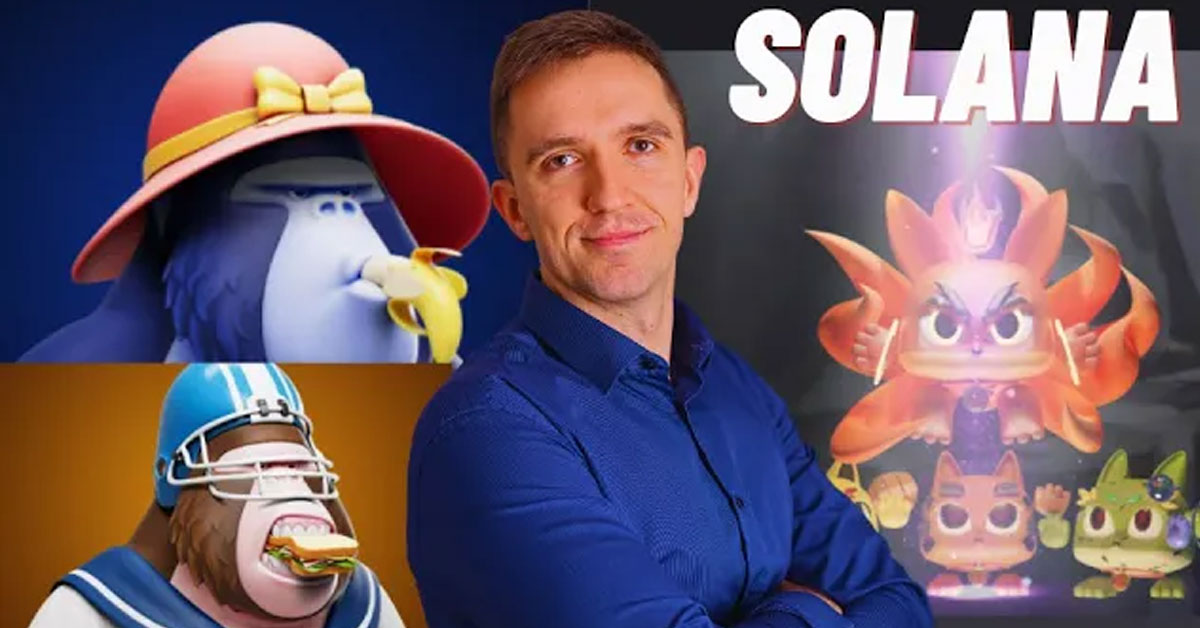 Solana NFT Marketplace: How to find Solana NFT projects
I know that many people are still very skeptical about Solana NFT Marketplace because it is something new. It became popular in 2021 and especially for those of you who are into Bitcoin and Ethereum, it is really hard to switch sides and put some money into a new Blockchain and I can tell you that I have felt the same way at the beginning of 2021 because most of my portfolio is into Bitcoin and Ethereum, but looking at the last 3, 4 months, Solana NFT marketplace got really huge trading volume and this is proof that a lot of people are looking into the NFT projects on the Solana marketplace and in today's lecture, I will share with you how to find Solana NFT projects.
I receive a lot of questions if it is better to trade NFTs on the Ethereum Blockchain or is it better on the Solana NFT marketplace and that is absolutely a personal choice but what I will share with you right now is how I compare at any moment if Ethereum is stronger compared to the Solana token or it is just the opposite.
How to decide if Solana or Ethereum is stronger
So if I open Binance for example and please don't take any of the information as financial advice, I'm not a professional financial advisor so you have to take your own decisions and do your own diligence and it's up to you how you will use the information in this lecture.
As a trader, I always like to compare different tokens by looking at the pairs. For example, if I want to compare Solana versus Ethereum, I will just look for the SOL/ETH pair and you will see that on a daily chart we have information since October 2021 on Binance but here we can see that it goes pretty much sideways. None of the cryptos is stronger than the other and this means they're almost equal.
Recently we saw a little bit more Ethereum strength but the whole crypto market has been negative and SOL dropped because of DDoS attacks and some issues with the small number of servers they have. Probably that's a thing that they will fix, but in general, if you look at the pair SOL/ETH and the price goes down this means that the Ethereum is stronger than Solana and if it goes up it means that Solana is stronger than Ethereum.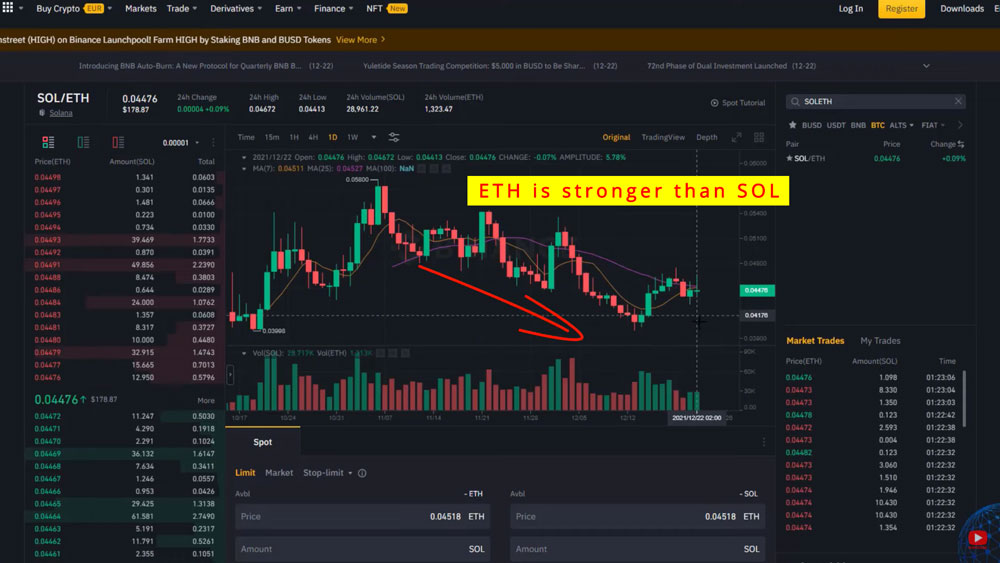 Same thing if you compare Ethereum versus Bitcoin, you will see that recently Ethereum has been the better choice if you are looking for longer-term investment and before that from September 2021 until mid-October, it was the better thing to invest in Bitcoin, so as a trader I always like to look at those pairs and see which one of the two at the current moment is more interesting for the investors.
Introduction to Solana NFT Marketplace
If you want to participate in the Solana NFT marketplace, you will need some SOL tokens. SOL gained a lot of traction and it increased in value a lot which means that at any point you need to know where the Solana token is.
If you go to the Solana NFT marketplace at solanart.io, you will see that there are plenty of collections, there are actually hundreds of collections. You will find a lot of videos talking about how to get started, how to connect the wallet, and others, which is super basic but the hard thing comes to the question of how to find Solana NFT projects that have the potential in the long term, no matter if you want to flip them or you want to invest into them. I have recorded videos about flipping Solana and investing in Solana NFT projects and you can follow the links to learn more.
Now I will actually share with you how to find Solana NFT projects looking at their performance. If we click on Stats in Solana marketplace you will see that we have the trading volume for the last 7 days and the last 24 hours and we can see what dollar value was traded, what is the floor price, this is the minimum price in the collection.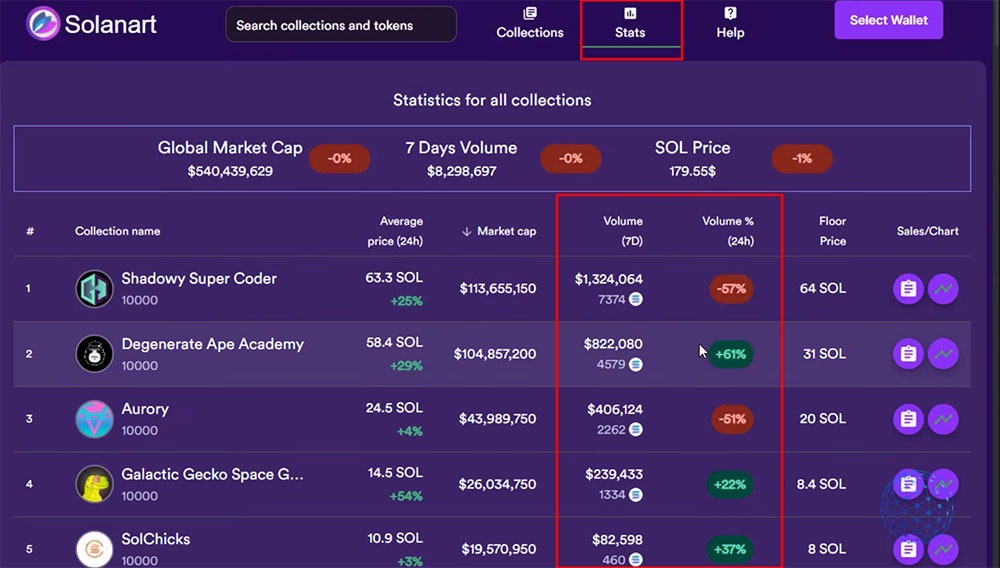 It looks like we have a lot of information but not really, the statistics that are available on the website are not really enough to make a clear conclusion on which is the best Solana NFT project to invest into.
Connecting a crypto wallet
Before I show you how to find Solana NFT on the Solana NFT marketplace the first thing you need to do if you are a complete beginner is to select a wallet. Keep in mind that MetaMask is not supported on Solana so you have plenty of other options. I've been using Phantom but don't take it as a recommendation you can use any of the others, they all work pretty similarly to MetaMask.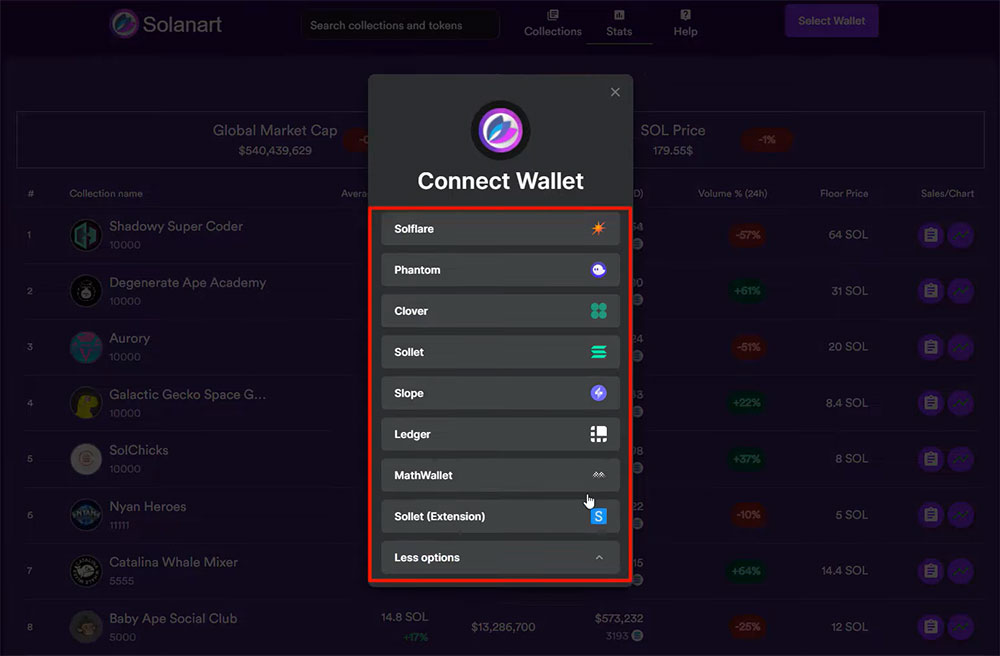 If I just paste my password and unlock you will see that right here I have 0.05 so at a moment and if I go to my personal page you will see that I have one NFT into the wallet and this wallet is for demonstrational purposes and in my videos so here is my wallet address if I want to send SOL tokens, I just need to copy that address and use it on my Binance account or any others if I want to send sold tokens okay, simple as that.
How to find Solana NFT Projects
So how to find Solana NFT projects that are promising? Now if I go back to the collections one more time you will see dozens or even hundreds of them. You have to keep in mind that there is never a guarantee on the NFT space, even the project is performing well until the moment there is no guarantee that this project will not collapse in time and it will lose the community.
Very similar to what happened with the Sol Punk and if I click on them you will see that this is a collection that looks pretty similar to the Crypto Punks that we know from OpenSea but actually the prices decreased quite significantly.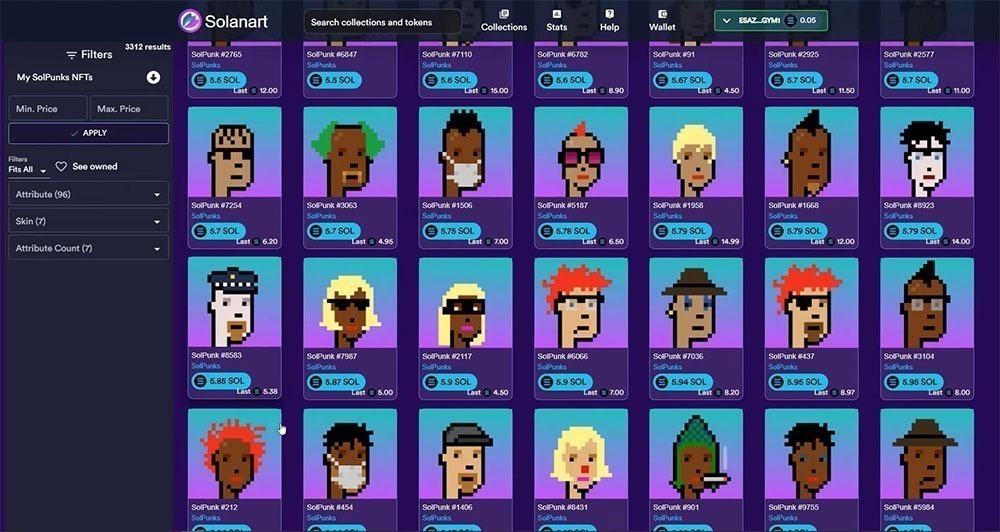 For example, this Crypto Punk was last bought at 12.25 SOL and now it sits at 5 SOL. Many of the others have the same story 15 to 5.6, 11.5 to 5.7, or what that means is that the last transaction was for 11.5 sold and the current price is 5.7. Before that, it was 13.90 so it's actually depreciating in value instead of increasing in value. You don't want to get into such a project where the NFTs are decreasing in value. You need to look for the ones that are increasing.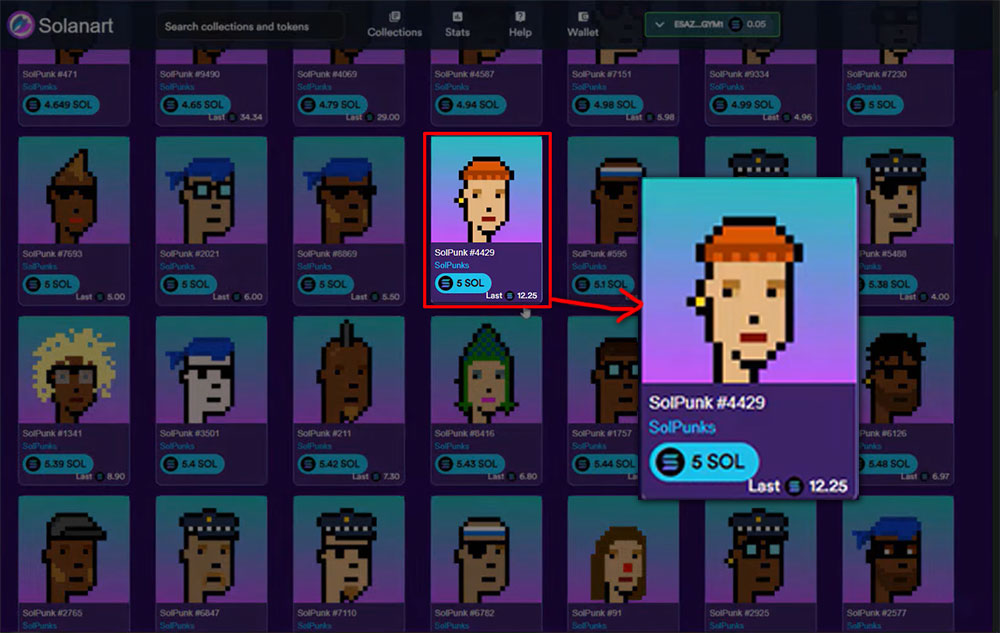 On the Solana NFT marketplace stats page, we usually see the last 7 days which might be quite tricky. For example, the Sol Punks have 2% on the positive side for the last 24 hours and they have negative the two are positive. For example with the SolChicks, you cannot really see what happened in the long term, what happened in the last 2-3 months, was the project actually successful or not.
This is why I will click on the chart icon at the end of the line and you will see that there we have some more information for some of the projects. Not all of them but here we can see for example in November 2021 there was a pretty nice boom and then we had a decline at the beginning of December, another boom and now it is declining again.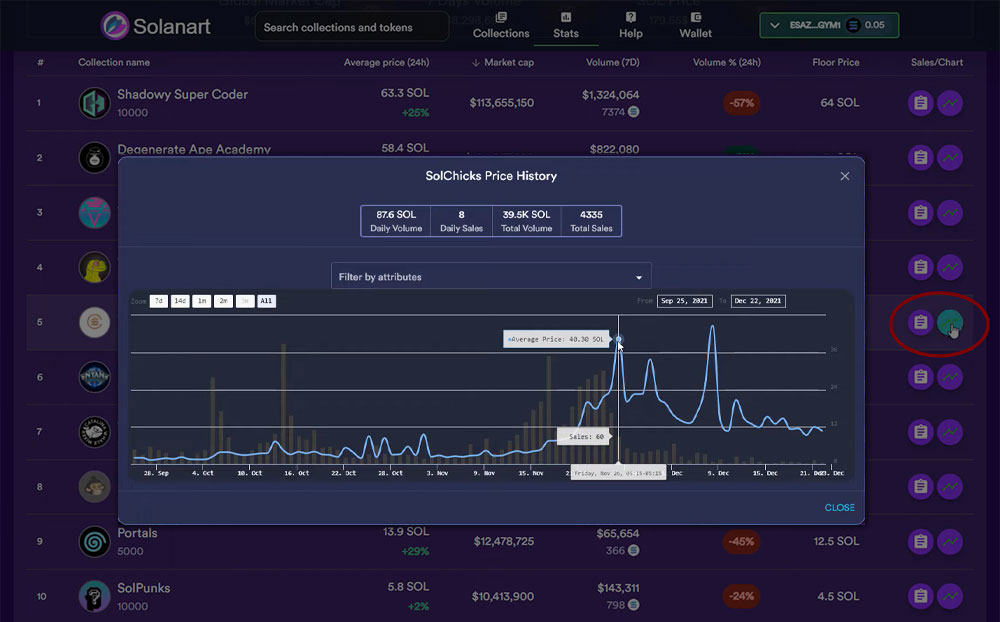 So if you're getting at this point you might make some quick money from flipping NFTs from the project but if you're getting a point where we are right now, you might get stuck with NFTs and not be able to resell them at a high price compared to the price you paid. As you can guess it's a lot of work to go through the different collections and look for the projects that are increasing in value and at the end of this lecture I will give you some projects that are actually increasing in the last few months.
Finding Solana NFT Projects that increase in time
Now what I said a little bit earlier is that you want to join into the projects that are increasing in value over time. SolPunks, unfortunately, lost some traction and I guess the community is not really happy from what they have seen with the project so far and their floor price just dropped. In August 2021 the SolPunks collection floor price was about 8 SOL and Solano was trading at about $75, so this would be about $600.
In other words, the minimum price that we were able to buy SolPunks back in August was $600. Now at the current moment, the floor price is 4.65 and Solana is trading for $180. We have a little bit of increase in a dollar value, but this is nothing really significant and I will tell you why.
Degenerate Ape Academy
Now I will open the Degenerate Ape Academy. This is a collection that was inspired by the Bored Ape Yacht Club that you might know from the OpenSea or the Ethereum Blockchain. Here you can see what is the difference, the floor price is 30 SOL. In other words, you can buy an NFT for a minimum of 30 SOL, and to continue my example, in August 2021 the floor price of this collection was 7 SOL. As I said at this time the price was about $75 which is $525. Now the floor price is 30 SOL and Solana trades at $180 at the moment and this makes a floor price of about $5400.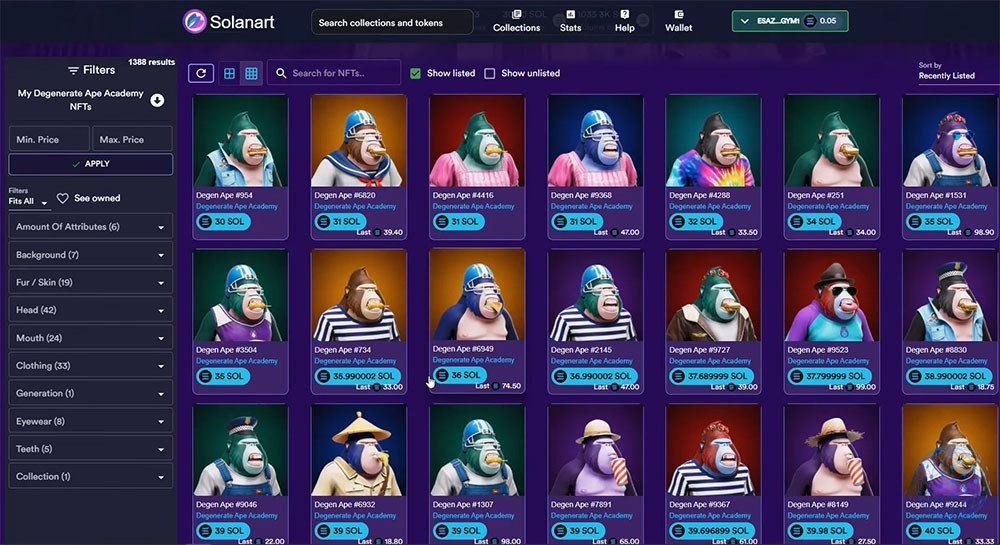 Do you see the difference? It increased significantly in time and no matter which NFT you have bought previously, you've made money obviously. Honestly, I have missed it but it was just great to observe it on the side and follow along with how these NFTs are just growing in value. These are the type of collections where you want to join.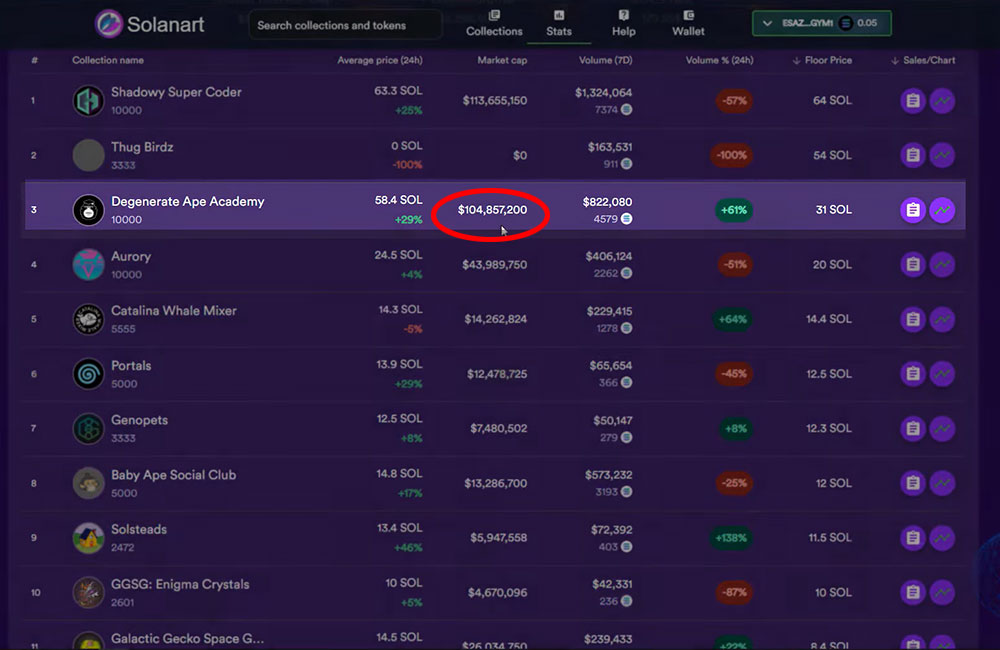 If I just go back and sort the collections according to the floor price or in other words, I want to see the collections that have the highest minimum price in the collection you will see that the Degenerate Ape Academy sits on the third spot which with a market cap of $104,000,000.
This is a huge thing on Solana, this is why at the beginning I said that many underestimate the Solana NFT marketplace but when we look at the market caps and the trading volume, it is huge. It is already a marketplace where we see a lot of trading and actually if I go back to this chart that I showed previously you can see here the average price, the number of sales and there are these booms where the average price just increased but overall it looks like decreasing. But as I said, the floor price actually increased over four times.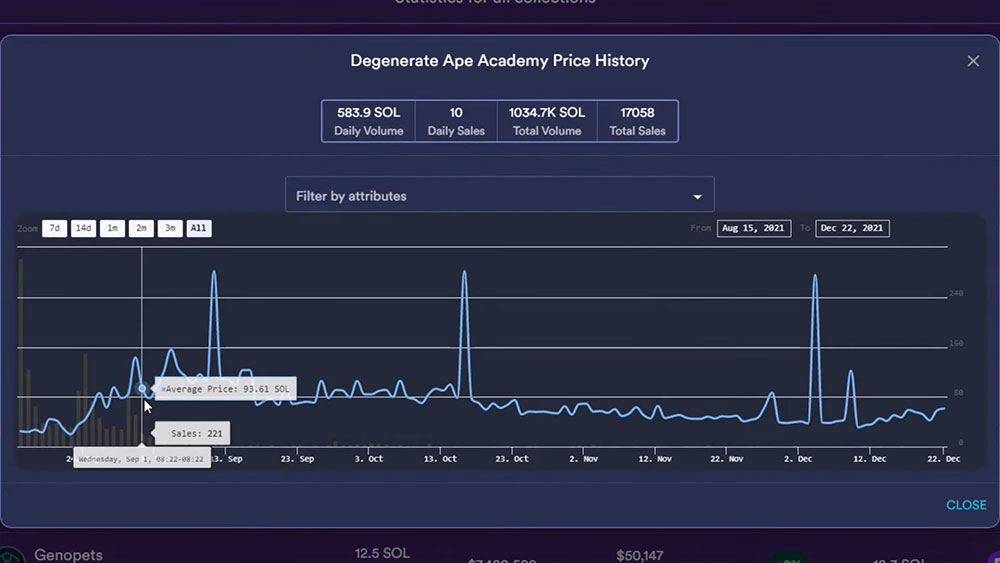 So when you like a project you better track it on a spreadsheet or something where you can monitor the floor price in the long term. I'm preparing such a spreadsheet but it's not yet ready and as soon as I'm ready with a final version I will definitely share it in some of my lectures.
Babe Ape Social Club
Another interesting project is the Babe Ape Social Club and if I click on it you will see that I have a floor price of 12 SOL which is a little bit cheaper depending on what your budget is. But one more time, don't take any of those as a suggestion.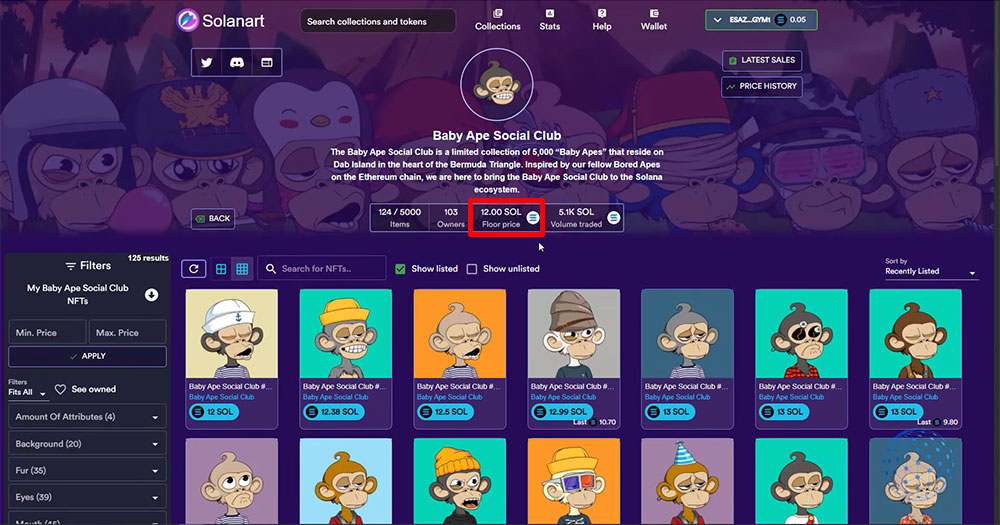 Meta Homes
I want to show you one more project that I've been following and I have been flipping a few NFTs these are the Meta Homes which are right in here 67 spot according to the market cap.
I really enjoy the Metaverse projects where we have a game as well and I personally think that most of the Metaverse projects will do pretty well if I just go back and look for the Tower project, it is another Metaverse or this is the NFT that I have currently into my wallet. I'm really interested in all Metaverse projects the ones that have games and play-to-earn options are preferable.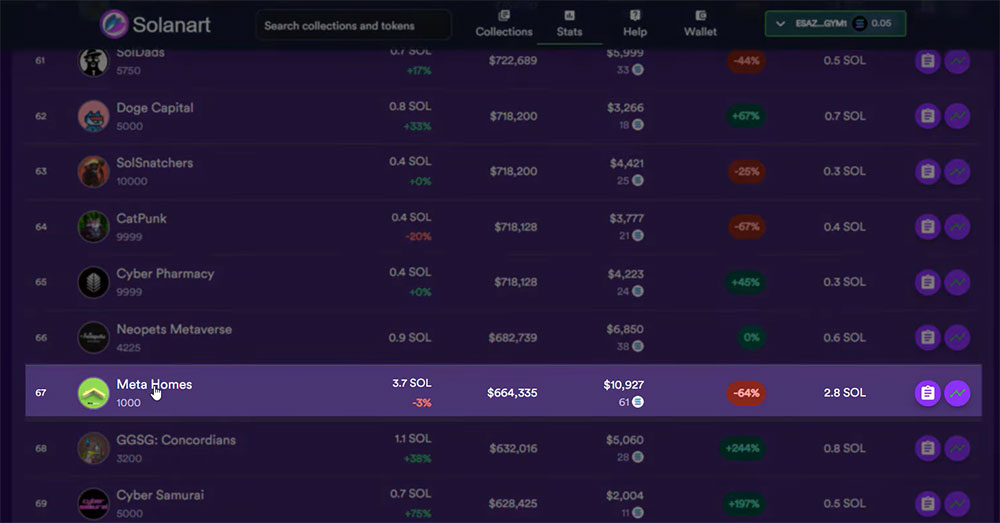 So be very careful when you're choosing your NFTs on the Solana NFT marketplace. We are all brand new to this exciting new place to trade NFTs.