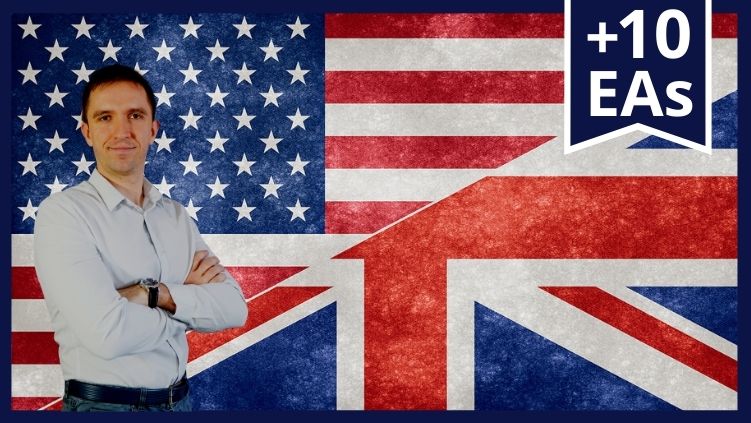 Forex Algorithmic trading course – the key to success!
Are you looking for a profitable trading system?! My name is Petko Aleksandrov, and I am the Head Trader. Over the past 6 months, we've had over 10 000 students join our Academy and that makes me very happy and proud. Because of this fact, I launched a sweet and short course with 10 Expert Advisors included, and I will show you how to find your best Forex Robot.
What is the best? We will update the course every month with new 10 GBPUSD Expert Advisors that we tested.
What we do here at EA Forex Academy is to teach Forex algorithmic trading
.
The Forex algorithmic trading course aims to teach people, even those with no prior experience at all. People often trade for a long time trying to find their ideal strategy, and some never do. In this Forex algorithmic trading course, you will learn how to create hundreds of Forex strategies and how to filter the best Expert Advisors.
I have chosen GBPUSD, because this is one of the pairs that generate stable profits in Forex algorithmic trading, and the spread is small with all brokers.
You do not need to have any programming or trading experience. I am going to provide you with the 10 Expert Advisors that are ready to be used for Forex algorithmic trading. What you will need to do is to follow their results and choose the best Forex robot for yourself. You will see how I use EA Studio – a professional strategy builder, as well as my entire process.
And, I will show you the performance of the EAs which is unbelievable +700 pips in 5 days.
It is essential to have very accurate statistics when you are testing Expert Advisors. This way you will be able to find the top Expert Advisors for the tested period, or more importantly– to find your best Forex robot.
The idea in this Forex algorithmic trading course is simple. We trade with many Expert Advisors in one and the same trading account. We follow their performance, and we move the top performers into another account. Using this system, we are able to trade many expert advisors that are profitable in current market conditions.
If a situation arises, where an Expert Advisors becomes unprofitable, we easily replace it with another one that is currently profiting.
This way we always trade the best Forex Robot for the current market conditions.
It is a common mistake for a trader to buy Expert Advisors, and say they "It stopped working". It did not. The market simply changed. That's why you need to trade with many expert advisors on a Demo trading account, and to keep moving the expert advisors that are currently profiting from your demo to a live account.
All traders are looking for the best Forex robot, and we need to constantly trade many in order to find it. This is how we diversify our risk with many Expert Advisors, and we do not depend on just a single one. This is what the profitable Forex algorithmic trading course system is all about.
If you are looking for more Forex algorithmic trading courses, please have a look at this section.
What are the requirements?
– You should have a computer with a stable internet connection
– Concentration to follow the performance in the account and choose the best Forex robot
– No experience in programming or trading needed for this Forex Algorithmic trading course
What am I going to get from this course?
-Trade with Expert Advisors without human interference needed
– Use the magic numbers to connect the account to statistical websites for analysis
– Choose the best performers from an account with many Expert Advisors
– How to trade using Forex Algorithmic trading without programming skills
What is the target audience?
– Traders who desire to trade and learn from this Forex algorithmic trading course 
– Everyone who wants to find their best Forex robot. There are 10 included  
– Traders who depend on statistics and not predictions on the Forex market
Course Features
Lectures

17

Quizzes

1

Duration

500 weeks

Skill level

All levels

Students

2396

Certificate

Yes

Assessments

Yes